Origin of the surname
The name has nothing to do with flowers or with dew; its origin and meaning are mysterious. The name "Flower(s)" sometimes refers to the "arrow-maker", and sometimes to the "flour maker". The "dew" part is possibly from the French dieu, meaning "of God".
Spelling variations include: Flowerdew, Flowerdue, Flourdough, Flowerdo, Flowerday and many more.
The name was first found in Norfolk where the family was anciently seated at Hethersett.
John Flowerdew, 1662 -
John Flowerdew was baptized on 22 Apr 1662 at Beeston St Lawrence, Norfolk. He married Sarah between 1685 and 1695. His son, William, was born circa 1688.
William Flowerdew, 1688 - 1753
William Flowerdew was baptized on 26 Nov 1688 at Beeston St Lawrence, Norfolk. He was the son of John Flowerdew and Sarah. He married Elizabeth between 1710 and 1712. His son, William, was born circa 1718.
He died in 1753 at Smallburgh, Norfolk.
William Flowerdew, 1718 - 1798
William Flowerdew was baptized on 7 Sep 1718 at Smallburgh, Norfolk. He was the son of William Flowerdew and Elizabeth. He married Sarah Hasleton, daughter of John Hasleton and Esther Brierton, on 20 Aug 1751 at Lessingham, Norfolk.
His son, James, was born circa 1749.
William died in January 1798 at Ingham, Norfolk and was buried there on 28 January.
James Flowerdew, 1749 - 1836
James Flowerdew was baptized in 1749 at Repps, Norfolk. He was the son of William Flowerdew and Sarah Hasleton. He married Elizabeth Tooly in 1785 at Irstead, Norfolk. Their son, William, was born the following year.
He was a publican in 1835 but died in 1836 at Repps, Norfolk. He was buried there on 3 Mar 1836.
William Flowerdew, 1786 - 1865
William Flowerdew was born baptized on 19 Jun 1786 at Ingham, Norfolk. He was the eldest of twelve children born to James Flowerdew and Elizabeth Tooly.
He married Elizabeth Woolston, daughter of Benjamin and Mary Woolstone, on 20 Oct 1807 at Ormesby St Margaret, Norfolk. They had five children: Elizabeth (1810-1826), William (1812-1892), Benjamin (1815-), Mary (1817-1824) and John (1820-1837).
Elizabeth Woolston must have died between 1820 and 1825 because William married Mary Chadduck on 29 March 1826 at Great Yarmouth, Norfolk. Six years later he married for a third time, this time to Hannah West on 19 Feb 1832 at St. Nicholas, Great Yarmouth, Norfolk. In the 1851 UK census he was shown as a widower of age 64 who was a dealer in timber.
It seems that he took a fourth wife, Susanna Daniels (nee Woolstone) in about September 1851 at Mutford, Suffolk. In the 1861 UK Census he was shown as a married male, aged 74, a retired timber dealer.
He died at Scratby, Norfolk, at age 79. He was buried on 31 Aug 1865 at St Margaret, Ormesby, Norfolk.
Benjamin Flowerdew c1815 - ?
Benjamin is the son of William Flowerdew and Elizabeth Woolston who married on 20 October 1807 at Ormesby St Margaret, Norfolk. Elizabeth was the daughter of Benjamin and Mary Woolstone. Benjamin was baptized on 19 Mar 1815 at Stokesby with Herringby, Norfolk.
He married Elizabeth Tubby on 19 Apr 1837 at St. Nicholas, Great Yarmouth, Norfolk. Their daughter, Elizabeth, was born later that year at Great Yarmouth but she died two years later.
Their second child was a son, William Thomas Squire Flowerdew, baptised on 3 August 1842 at Great Yarmouth. William's brother, John James Flowerdew was born on 20 September 1846, also in Great Yarmouth, Norfolk. Both John and his brother William became Able Seamen in their early twenties before settling in Australia.
In the 1851 UK census, Benjamin Flowerdew was shown as a sawyer, aged 35. He was lodging with James Baker, Publican in George St, Great Yarmouth, Norfolk.
John James Flowerdew c1846 - 1910
John James Flowerdew was born at Great Yarmouth, Norfolk, in about 1846, son of Benjamin Flowerdew and Elizabeth Tubby. John James Flowerdew was a mariner and, in his early twenties, was employed as an Able Seaman on ships operating out of England. For example, on 16 March 1866 he was discharged in London from the Ann Roydon (1,175 tons, Liverpool) after a voyage to Calcutta that had started five months earlier. Ten days later he signed on to the Brusselle (1,122 tons, Hull) for a return voyage to Quebec that took nearly four months.
Four years later, a few days before Christmas in 1870, he married Grace House in St Andrews Cathedral, Sydney. It is likely that John Flowerdew came out to Australia as a seaman either with his brother William or to join him in Australia. Will had married Elspet Donald (known as Elsie) in Sydney two years earlier. Will and Elsie lived a Millers Point (near where the southern pilon of the Sydney Harbour Bridge now stands). John and Grace lived a couple of miles away at Surry Hills.
John and Grace's first child came along two years later in 1873 and was named for his father and paternal grandfather (John Benjamin). There were two more sons (William Thomas, 1875 and Frederick Charles, 1877) before their first daughter came along in 1878: Mary G(race?) H(ouse?). Two more daughters followed in quick succession: Ellen Elizabeth (1880) and Ada Grace (born at 6 Sutton Street in Balmain on 21 October 1881). John was a labourer at this time.
John and Grace moved to 6 Sutton Street Balmain during 1881 and Will and Elsie moved to 2 Sutton Street at about the same time. William lived at 2 Sutton Street, Balmain from 1882 until at least 1904 and John lived at number 6 in the same street during all of those 22 years. Prior to that he lived at 4 Marshall Street, Surry Hills (near Moore Park) for at least 3 or four years while William lived at 42 Merriman Street, Millers Point (originally named Crown Road). During this time John worked as a gardener but it seems that William continued as a mariner for many years.
Just before Ada Grace was born, tragedy struck the family with the death of the toddler, Mary, in her third year. John and Grace's last child (Henry) was born five years later but, unfortunately, he too died before his first birthday.
At around 54 years of age, John James Flowerdew witnessed the marriage of his youngest surviving child, Ada, to Charles Taylor Fleming on 16 May 1900. He continued to live in his Sutton Street house for at least another 4 years until declining health forced a change in his living arrangements. He died on 6 August 1910 at Delwood in College Street Drummoyne. Will Flowerdew outlived his brother by 14 years.
Ada Grace Flowerdew, 1881 - 1952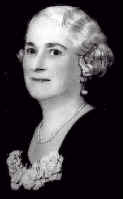 Ada Grace Flowerdew
Ada Grace Flowerdew was born at 6 Sutton Street in Balmain on 21 October 1881, the youngest surviving child of John James Flowerdew and Grace House. Her father was a mariner and a labourer and her mother's family was well-established in Balmain having emigrated to Australia 25 years earlier.
She married Charles Taylor Fleming, another Balmain local, on 16 May 1900. Her husband was three years older and had been employed by Prescotts Limited (produce merchants) for several years already. His employers had invited him to move to Orange, NSW, to assist the firm in establishing a branch office. His family was about to emigrate to New Zealand, but Charles and Ada preferred to marry and move to Orange where they lived for the rest of their lives.
Six years after their marriage, her husband resigned from Prescotts and was appointed as the first Shire Clerk for Conobolas Shire (Orange).
Their first child, Charles Gordon, was born in December 1900. He was not a strong baby and only lived for about three months. His brother, Eric William, was born on 1 July 1905 and was followed by Reginald Angus (11 September 1908), Irene Margaret (10 July 1910) and Ada Edna (about 1911).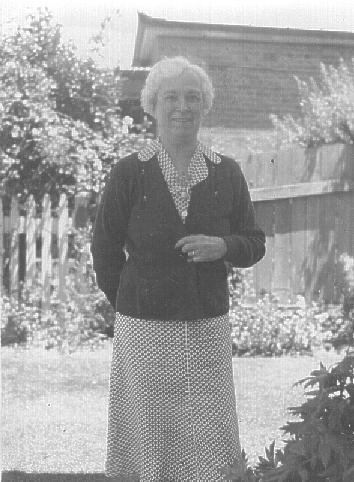 Ada Grace Fleming (nee Flowerdew), c1945
Tragedy struck the family on Anzac Day 1921 when Ada was struck and killed by a car in the main street of Orange whilst watching the march-past. She died 4 days later.
Eric married Pearl Walden and their daughter Julie was born in 1939. Reg married Stella Jolliffe and produced two sons (Bruce and Jim) before his divorce in 1943. After the war he married Winifred Hanigan and this marriage produced another son (Geoffrey). Irene never married; she worked for the Shire Council (alongside her father) and lived in the family home until she retired. Ada and Charles eventually had nine great-grandchildren.
Ada Grace, Charles, Eric and Irene made several trips to New Zealand over the years to keep in touch with Charles' family.
Both Charles and Ada were cigarette smokers and suffered adverse health effects as a result. Charles was 59 years old when he became gravely ill in 1936 just as he was about to board a ship to visit his family in New Zealand. He died soon after.
Ada lived for another 16 years before she died in 1952 aged 71.
I would like to thank Peter Flowerday for his assistance and cooperation in providing some of the information on this page. - Jim Fleming
© Copyright Jim Fleming 2002.
This page created on 21 June 2002.
Last edited on 16 Mar 2011 .
Click here for information on contacting the web master.