Origin of the surname


The surname Kemp is derived from the Old English word "cempa" meaning champion, warrior, soldier, knight and perhaps, athlete. The Old English word was derived from the Latin word campus, meaning plain or field (of battle). The Saxons used a verb to kemp or combat that is retained to this day in Norfolk, England where a football match is referred to as camping or kemping. In some parts of Scotland, the striving of reapers in the harvest-fields is still called kemping.
This surname (and its variations) is found in a number of European countries including:
England: Kemp, Kempe, Kempson
Germany: Kempe, Kempf, Kempfner, Kempfle, Kampf, Kampfl, Kompf, Kempner
Holland: Kemper, Kempers
Finland: Kemppainen
Poland: Kempa, Kempski, Kepka, Kepa, Kepski, Kempinski, Kepinski, Kepczynski
In England, the name first appeared in Kent where the family was seated from very ancient times, possibly well before the Norman Conquest in 1066.
Isaac Kemp, 1798 - 1857
The first thing that we know about Isaac Kemp is that he was working as a labourer in the parish of Ticehurst, Sussex, in 1817, aged 21. The identity of his parents is unknown, although it appears that he had a brother called William.
At midnight on 12 December 1817, the brothers, along with John Campany, burgled a house belonging to James Golday with force of arms. Their booty consisted of 2 pairs of spatterducks, 5 yards of linen, 6 yards of printed cloth, 8 yards of sheeting, 1 yard of nankeen, 1 wrapper and 1 yard of calicut. The total value of their hoard was put at 22 shillings and sixpence.
The three were tried at the Lent assizes in Sussex on 16 March 1818. James Golday and his wife Elizabeth were the chief witnesses and they were supported by William Napper, William Haselden, William Elliott and Thomas French. Isaac and John Campany were found guilty but they were reprieved from the death sentence and committed to transportation for life. William Kemp was acquitted and discharged.
Three months later, Isaac had the misfortune to sail from England aboard the General Stewart under captain Robert Granger. John Campany was also aboard, as were several other convicts who had been convicted at the Sussex Assizes on the same day as Isaac and John: Daniel Rapley, John Harris, John Maynard, John Johnson, Daniel Sharp, John Martin and Daniel Harwood.
Robert Granger was an incompetent and cruel captain. The voyage of the General Stewart was a nightmare for all on board, particularly the convicts. Many convicts died and many more were hospitalised in Sydney after the ship arrived on New Year's Eve after five and a half months of misery.
On disembarkation, Isaac was described as 5 feet five and a half inches tall with a dark ruddy complexion, dark brown hair and hazel eyes. He was 22 years old.
It appears that Isaac was assigned to work as a convict labourer for the Blackman family who had extensive landholdings in the Bathurst to Rylstone area.
Isaac was granted his Ticket-of-Leave on 31 December 1827, the 9th anniversary of his arrival in NSW. It stipulated that he was to remain in the Bathurst district. Three years later, he had a son who he called William, after his brother. William's mother was Mary, surname unknown. Mary may have died soon after, because William was raised by Isaac and they remained acquainted until Isaac's death.
On 4 October 1836, when William was six years old, Isaac married Margaret Murphy at Bathurst. Margaret had come to Australia on the Duchess of Northumberland. Eight months after the marriage, Margaret died at Bathurst, possibly as a result of a difficult pregnancy. At this time, Isaac was living at Mudgee.
Eighteen months later, on December 3, 1838, Isaac published the banns for his intended marriage to Mary Tobin, a 20-year-old spinster and recently arrived convict. Despite this, it appears that they were never married because he married Sarah Shirvington at Kelso a few months later, on 4 September 1839.
25 years later, Isaac was making his living as a carter using his bullock dray. In the summer of 1855 he and his 25-year-old son, William, transported a newly arrived family over the Blue Mountains from Sydney to Mudgee. The family consisted of Frances Elliott (nee Gibson), her 19-year-old son George and her 15-year-old daughter, Emma. Frances' brother, George Gibson, had paid for the family to come out from England to join him after Frances' husband, James Elliott, died. He was an ex-convict who had done very well as a farmer and grazier in the Coonamble district.
It appears that Isaac' son, William, was given a job working on Gibson's station where Emma was also living. He and Emma were married in November the following year and had a very large family.
Isaac lived for only a few months after this. He was unfortunate enough to be run over by his own dray at Cobra in the Bligh district on 12 April 1857. He was buried there by John Blakemore, the local publican and John Nichols. His death was registered 4 days later at the Police Office in Dubbo. He was about 59 years old.
William Isaac Kemp, 1830 - 1897
William Isaac Kemp was born about 1830, son of Isaac Kemp (a blacksmith and ex-convict) and Mary (surname unknown).
When he was 26 years old, he met Emma Elliott and they were married soon after, at Wellington on 19 November 1856. Their son William was born a few months later.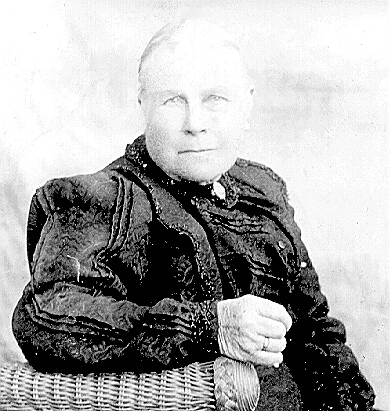 Emma Elliott (Granny Kemp) circa 1880
William's work as a station-hand and blacksmith required him to move around a fair bit over the years of his marriage to Emma. They had a very large family of 7 sons and 9 daughters over a period of about 24 years. After their eldest, William, came Frances (1859 - 1943), Elizabeth (1861 - 1877), Emily (1861 - 1945), George (1862 - 1937), Lucy (1864), Alfred Frederick (1865 - 1949), Henry Isaac (1867 - 1930), James (1868), Sydney Edward (1869 - 1954), Ada Louise (1872), Herbert Ernest (1873 - 1945), Amy Laura (1875 - 1924), Marita May ("Mercella") (1877 - 1949), Clarinda Mary ("Dot") (1879) and Edith Ivy (1881).
It must have been very hard for William and Emma to make ends meet during these years. Nevertheless, William eventually became a grazier in his own right and lived in Coonamble in later years.
He died of cancer in the local hospital on 29 April 1897, aged 67 years, and was survived by 15 of his children. His wife outlived him by well over 30 years and became a well-known identity in Coonamble by the time she died in the mid-1930s. By that time "Granny Kemp" as she was widely known had, in addition to her 16 children, 40 grandchildren, 87 great-grandchildren and five great-great-grandchildren.
Frances Kemp, 1859 - 1943
Frances Kemp was born at Drill Station, near Mudgee on 7 July 1859. Her father was William Isaac Kemp, a blacksmith and station hand who worked on a number of stations in the Central-West of NSW. Her mother was Emma Mary Elliott, a 19 year-old emigrant from England. Emma's parents had been married for two and a half years and already had a son, William.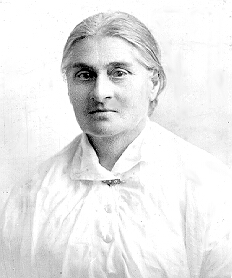 Frances Kemp
During Frances' childhood, the family moved frequently because of the itinerant nature of her father's employment. It was a hard life because Frances' mother was always busy with a new child. She had 16 altogether, the last of whom was born when Frances was 22 year old.
Frances became pregnant at 18 years of age and gave birth to a boy whom she named Edgar on 26 November 1877. He was born at Bokemar on Werri Werri Creek, but the identity of his father is not recorded.
Six years later she had a daughter, Frances Elizabeth who was nicknamed "Tolla" throughout her life. Again, the identity of her father was not recorded.
On 8 November in the following year, 1884, Frances married Attwood Charles Gardner in St Barnabas Church, Coonamble. He was a rural worker like her father. The union produced ten more children: Attwood Charles (1885), Bertha Ada (1887), Emma Mary (1889), Amy Laura Emily (1892), Clara May (1893), Vida Robina (1895), Georgina Jane (1897), Nora Olive Lavina (1900), Albert and Daisy Una Geraldine. Frances and her husband obviously had a talent for children's names!
Frances' many grandchildren knew her as "Granny Gardner". She died on 10 May 1943 in Coonamble District Hospital, aged 84. She is buried in Coonamble cemetery.
© Copyright Jim Fleming 2002.
This page created on 21 June 2002.
Last edited on 22 Mar 2011.
Click here for information on contacting the web master.
Hit count: